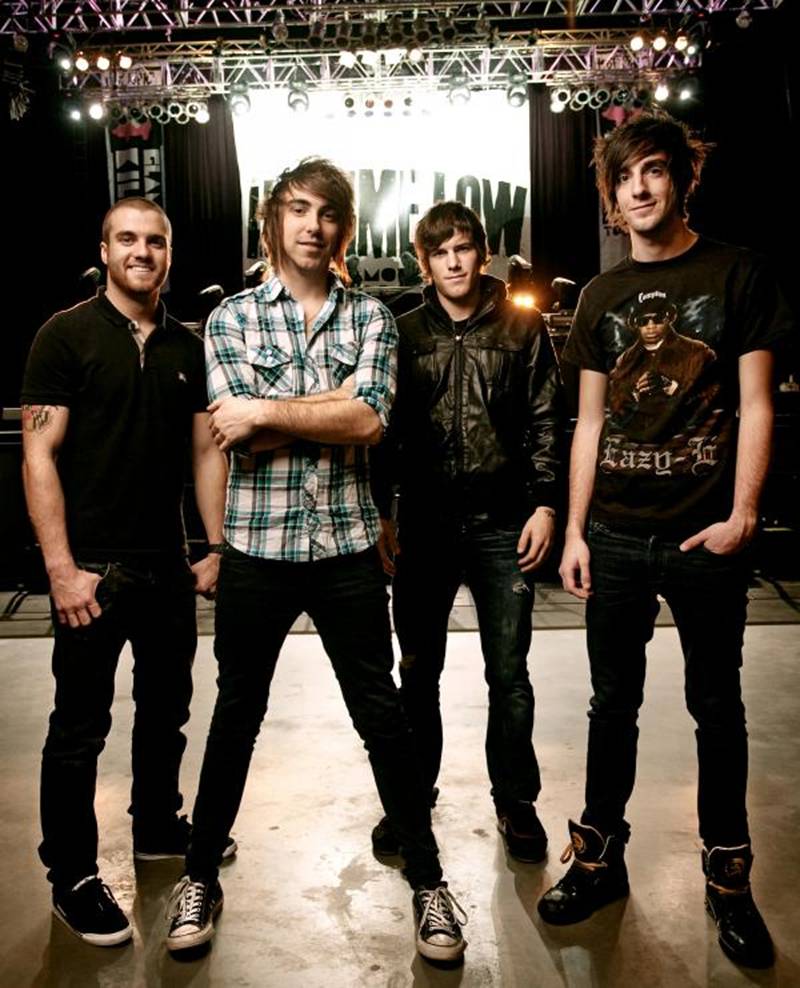 By Eileen Tilson
Three years ago, my adorable little 14-year-old godchild, Haley, rang me up with panic in her voice. "Leenie, All Time Low are coming to town and we HAVE to go. I HAVE to meet them." I remember thinking to myself, what band could cause a frenzy only comparable to the second coming of Elvis? Well apparently, the young boys in All Time Low have mastered the act of making a fan.  Formed in 2003, while still in high school, don't let ALT's youth or playful personalities fool you, these boys are for real. While touring Sweden, I chatted with Alex as part of our "15 Questions With" series… and as always, the answers might make you spit your lunch out.
What is the most outrageous gift you've ever received from a fan?
Someone gave each of us a Fleshlight, which is basically a dude's equivalent to a vibrator. It even comes with its own vagina.
How do you take your coffee?
I take my coffee with soy milk, I'm lactose intolerant, which just sounds nerdy to say.
If you could collaborate with any musician who would it be?
Oh Dave Grohl, totally. Love that guy.
Who is your celebrity crush?
Mila Kunis. Actually there is this weird love triangle going on right now. I heard that they started dating, and it might be awkward cause one of our songs is going to be in their new movie, and I know when Mila hears it she is gonna fall in love with me; and then Justin Timberlake and I will end up fighting and being caught on TMZ.
If you were a girl for one day, who would you most want to take out on a date?
I think George Clooney would be a perfect gentleman. He just seems like the type that would take you on a great date and teach you things, and then drop you back home, no strings attached.
How old were you when you lost your virginity?
I was  15, but I was in a very serious relationship and it was a really positive experience.
Can you play the ukulele?
No, not really; it takes several tunings… but I am super envious of people who can! I always thought it would be so cool to walk out on stage playing the ukulele.
What was your first concert?
It was this radio festival in Maryland; I saw Linkin Park and Good Charlotte. It was also the first time I had ever seen anyone smoke pot, it was awesome.
How do you feel about tequila?
I'm a big fan of tequila as long as it's not Jose Quervo. I finished a bottle at a party one time and ended up passed out on the front lawn.
If you were a racehorse in the Kentucky Derby, what would your name be?
"Mi Dyx A Dril."
If you were the star of your own reality TV show, what would the name be?
Hmm, not sure what the name would be, but it would definitely be a late night HBO Special.
Can you dance?
I think so! I try my best.
What's your favorite thing to do on your day off?
The usual musician stuff: watch movies, drink, play video games.
What are you working on now? Anything you are excited about?
Well we just finished our new album on June 7, and we are  just going to continue to tour like crazy. I think next stops are Australia and Japan..
All Time Low plays the Tabernacle courtesy of AT&T. AT&T has hidden posters around the city for you to find! Your location hints are: Castleberry Hills, Ponce/Highlands, Little 5 Points and Turner Field. Good luck!
We also have a pair of tickets to give away – enter to win by filling out the form below.
Category: Gigs, Giveaways, Interviews, Ten Questions With Series