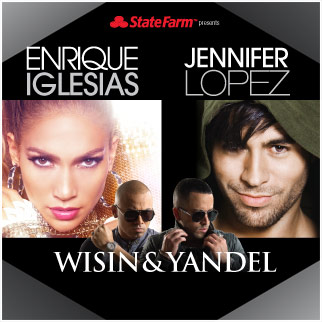 For one of the hottest concerts of the summer, Atlanta Music Guide  is giving away a pair of tickets to see Enrique & JLo on August 29th at Philip's Arena!
Pop and Latin music icons don't get any bigger than this!  ENRIQUE IGLESIAS, JENNIFER LOPEZ and WISIN Y YANDEL announced today they will tour together this summer hitting nearly 20 cities nationwide starting July 14, 2012. The State Farm® presented tour, promoted by AEG Live will go on sale beginning Friday, May 4, 2012.  Fans can also get special VIP packages that will include amazing seats, VIP pre-show parties, autographed memorabilia and exclusive merchandise.
"I'm so excited to be spending this summer out on the road. There is no better feeling then being out on stage in front of all my fans," said Enrique Iglesias.
"This tour is one of those rare triumphs of great entertainment and selfless camaraderie that could only be possible when three superstars join forces to create the ultimate, must-see package. Enrique Iglesias, Jennifer Lopez, and Wisin y Yandel on the same stage is a dream for their fans and a milestone of AEG Live," said Randy Phillips, President and CEO of AEG Live.
"We are beyond excited for this tour to take off so we can light up the stage alongside our friends and colleagues Enrique and Jennifer. We are more than ready to give the fans our all and help make this the very best show they have ever experienced," Wisin Y Yandel
Category: Giveaways