'Tis the season for gift-giving! We all have those friends and family members who seem to have every music gift imaginable, but we have searched the Internet to find some unique presents that just may be exactly what your music-loving giftee may needs!
Interior Decorations
For those people who love decorating their home or apartment as much as they love music, getting a musical-themed decoration can be the perfect gift! Whether it is a large rug or candle holders, you can ensure that your giftee will be able to express their love of music through rockin' home accents.
You can get the rug here and the candle holders on Etsy!
---
Musical Mugs
We all know who those coffee-addicts in our lives. Treat them to a jazzy cup of Joe with one (or more!) custom coffee mugs. There are mugs for guitarists, pianists and more!
eBay has several creative coffee mugs to choose from!
---
Guitar Holder
If you have a friend or family member who has a passion for collecting guitars, give them the gift of handiness! Instead of having guitars lying around everywhere, a mounted guitar holder can make it easy for your giftee to grab a guitar and start playing.
Get the hooks pictured above right here!
---
Concert Tickets
Want to give concert tickets, but don't know which show to select? A gift certificate is a great way to give your music lover the chance to pick their favorite! Ticket Alternative has tickets to show at venues like The Loft, Vinyl, Drunken Unicorn, Eddie's Attic and The EARL with price options of $50, $75 and $100.
Purchase gift certificates from Ticket Alternative now!
---
Personalized Guitar Picks
If you know someone who always seems to be losing guitar picks then give them a reason to hold on to them with personalization! Add a sweet or motivational message to let your friends and family members know how much you mean to them this holiday season.
Etsy has it all, including custom picks like these!
---
Volta iPhone Sound Block 
As clever as it is to stick your phone in a bowl to amplify the jams, we think this block of Northwest Alder and bison horn create a unique discussion piece suited for any music lover's salon or living room, whatever you want to call it.
Available from Shoppe by Scoutmob
---
DJ Cat Scratching Pad
So you have a music lover who is also a cat lover to shop for. Bingo. Cats already do some really amusing things but getting out that urge to scratch on kitty sized ones and twos? Awesome. Tick tock kitty don't stop.
Get it from Uncommon Goods
---
Portable Vinyl Record Player
A massive vinyl collection is the sign of a true music junkie. We love the vintage look of this record player. It comes in several colors and you can tote it around with you wherever your little heart desires. Full range speakers, RCA audio out, plus a headphone jack make this the perfect gift.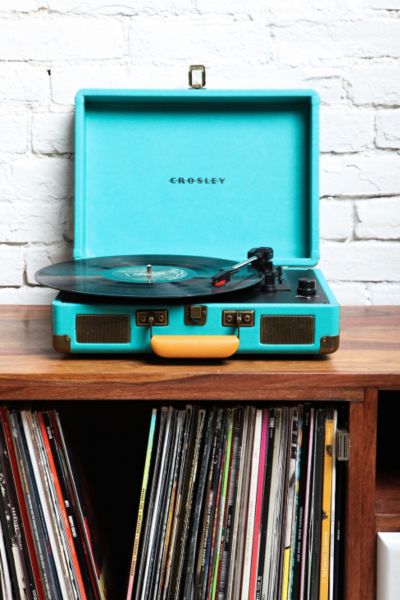 Available from Urban Outfitters
---
Spin-Clean Starter Kit Record Washer System
If your record junkie already has a sweet record player then this might be the ticket. While flushing your cds in the toilet was the go to way to clean them, we don't recommend that for vinyl. This guy takes the effort out of cleaning records, plus its affordable. Double whammy.
Pick one up on Amazon
---
Personalized Ticket Stub Album
Perfect for the avid concert goer to display their bounty of conquered shows. Holds up to 96 tickets and you can have the front customized with their name!
Snag one at Personalization Mall
---
Frends Layla Headphones
These seriously stylish headphones are jewlery-inspired which makes them perfect for the fashionista in your life. They're crafted from genuine leather and metal with volume, mic, and phone controls.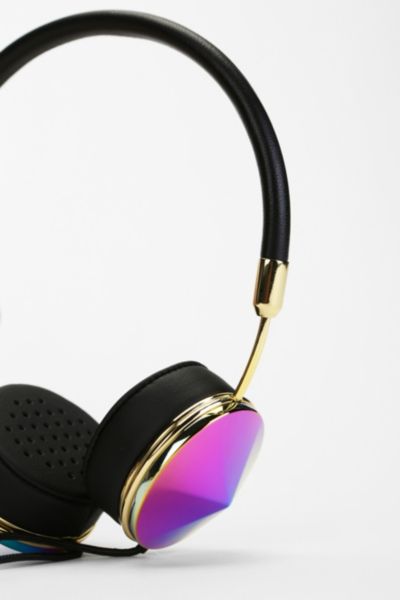 Available from Urban Outfitters
---
Star Guitars: 101 Guitars That Rocked the World Book
This awesome coffee table book features the guitars so famous their names are often household words: B.B. King's Lucille, Eric Clapton's Blackie, Neil Young's Old Black, and more. Beats the hell out of a stack of year old magazines wouldn't you say?
Available on Amazon.com
---
Jack Kerouac Music Quote Throw Pillow
Everyone loves a good quote. We like this pillow because it's different from the usual framed print. That and the quote is legit.
From etsy
What do you think about what we found? Will you be purchasing any of these gifts for your friends and family? Share your music-related presents with us right here, on Facebook and Twitter! Have a great holiday!